"How good and pleasant it is when brothers live together in unity! It is like precious oil poured on the head, running down on the beard, running down on Aaron's beard, down upon the collar of his robes." (Psalm 133:1–2)
The key to good and pleasant company is given with a little disclaimer…we must be in harmony. That's not always easy. Some of us are grumpy, stubborn, or boring. Some our report cards as children came home with the teacher's note: "Doesn't play well with others." And I know from my own childhood: brothers fight. My wife fought with her sister when she was a kid.
In fact, the first sibling story in the Bible is Cain and Abel – it ends in murder…and ironically, they were fighting over religion. Joseph was sold into slavery…by his brothers. Miriam and Aaron argued with Moses. David (who wrote this psalm) didn't get along with his brothers. Even Jesus' brothers tried to stop his ministry because they thought he was crazy.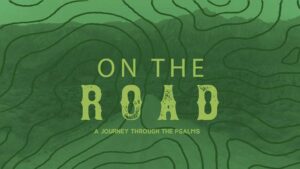 But when we are in harmony, it is good and pleasant.
The picture David draws upon here is from Exodus 29 where instructions are given for ordaining Aaron and the other priests (called Levites). "Take the anointing oil, pour it on his head, and anoint him." (Exodus 29:7)
Throughout the Bible, oil symbolizes the Holy Spirit and the presence of God (that's why we anoint with oil sometimes when we pray. "Is anyone among you sick? He should call for the elders of the church, and they are to pray over him, anointing him with oil in the name of the Lord." (James 5:14)).
But with Aaron and the priests, there was something else…anointing or consecrating – setting apart for service. David is reminding us, that we, too – in our community – have been "set apart" for serving one another. The Apostle Paul reminds us: "For you were called to be free, brothers and sisters; only don't use this freedom as an opportunity for the flesh, but serve one another through love." (Galatians 5:13)
It is interesting that David ties the anointing oil, a symbol of the Holy Spirit, to the unity of the people…because many years later, Paul would say the same thing to the church: "making every effort to keep the unity of the Spirit through the bond of peace. There is one body and one Spirit—just as you were called to one hope at your calling—one Lord, one faith, one baptism, one God and Father of all, who is above all and through all and in all." (Ephesians 4:3–6)
The only hope for a divided world, a divided nation, is found in that verse… Fairer policies wouldn't hurt. Legislation might help. But in the end these are band aids. True unity and healing comes only from the Spirit of God. We need his move in our nation!
Join us Sunday – in person or online – and let's study the richness of Psalm 133 together!